Hi Everyone,
I mentioned in my previous Post ("A Busy Month") that I had been working on a new series of Images which I had named "The Splintered". Well here it is finished. Again, I have taken a single source image and processed that image multiple times. I am so enjoying this approach, it really is a challenge and forces you to think harder about what is working and what isn't. As with my other series worked in this manner the images that I first discover as part of this process are the ones which haven't made the final cut, they have been discarded and are languishing on the metaphorical cutting room floor. Those that reveal themselves towards the end of the process are my favourites within the selection by quite a long way. This is something I didn't think would emerge as something to consider but having taken this approach a couple of times now it is definitely a common thread. Maybe we need to look beyond the obvious as a matter of course, easy said though.
Anyway, this series also started with an image of a window, a multiple exposure with colour shifts achieved by way of changes in the white balance. I am not sure what attracted me to this image as a starting point but it certainly proved to have been a good choice.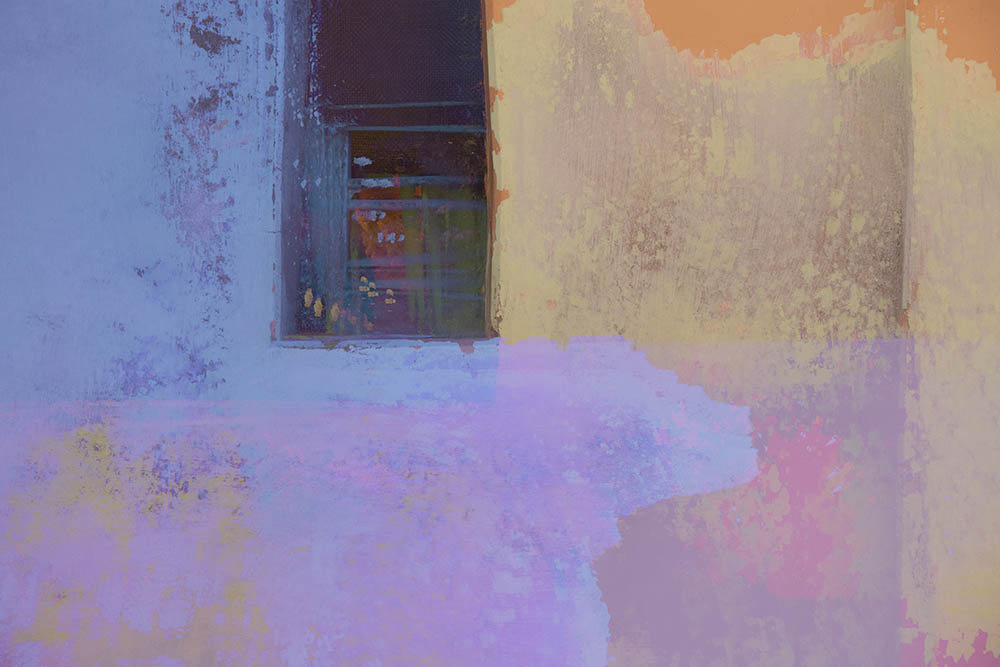 I made a conscious decision when processing this image to try and see if I could adopt a different style. I do like using colours, typically the more vibrant the better, but I wanted to try something different with this image and see if I could use colours in a more subtle or muted way. It wasn't easy! The images on the cutting room floor are definitely more vibrant than those that made the final set. It was a good challenge though and I am glad that I chose to box myself into a corner for a change.
So...  the panel above is a bit different when compared to my prior images. Is that a good thing? Should we consciously look to develop a style running through our work?  Or, is looking for, developing and sticking to a style a trap?
Is knowingly having a style a benefit or a curse?
When thinking about this my first thoughts were to ask what having a style actually means. The simplest description is to think about the reason why any artist within any genre becomes well known, that artist is doing something with their work that makes it so distinctive and recognisable that you know immediately that a particular piece is by that artist. So having a style is a good thing, right?  Well yes, it must be, certainly if your art is the means by which you are able to put bread onto the table, it's fundamental.
So, how you get to the point whereby you have a style that is distinctive and recognisable. That's the tricky part of the process. After a little reading around the topic there seems to be some common thinking which certainly makes sense to me. Developing a style is not something that happens overnight, it can take years, decades even, to develop a form of making art which is distinctive to you. Artists with a particular style have a whole history of evolution which has allowed them to get to a point where they are recognisable. Those years are often not visible when viewing a piece of work where that style is evident.  It is useful to me to think of all art made during those years as contributing to the big style-melting-pot, everything contributing and influencing in some way.
Whilst contributing to that melting pot it can feel that you are all over the place with what you are working on, with no direction or clear goals. Finding the positive, it is unlikely to be boring. How do you find the happy space to keep going and trying new things when there is pressure all around to be distinctive and consistent in the work that we produce. Pressure from Social Media certainly tries to push us in the direction of consistency, people 'like' us for work that we have completed so far and can sometimes 'unlike' us when we try new things or experiment. Should we care? I guess it's always worth remembering how long anyone following you actually looks at anything you produce, you will be lucky to get 4 or 5 seconds followed (maybe) by a click.
How do you find your style? The consensus seems to be not to force it and to let things evolve over time. With a mindset of being a Jack Of All Trades, to try everything you can think of, the worst that can happen is that you find some things you might not like but along the way you will have fun and might find something unexpected that makes you happy and keeps you engaged. So why should you shy away from being laser-focused in trying to develop a style, in simple terms, how do you then know what you might be good at, you are by definition limiting your creative options.  It's the same with food, if you don't try new things how do you know what you like or don't like. If eating Spaghetti Bolognese every day makes you happy then great, for most of us though eating the same foods day in, day out will be drive us out of our minds, we need variety and to try new dishes to keep us happy and engaged.
For me, working on this image gallery and trying to take a different approach has been something I have thoroughly enjoyed. I am not sure what elements, if any, have ended up in my personal melting pot but maybe time will tell. I might try something else next time, not sure what yet but something will pop up…
I would love to know your thoughts on this.
Take care
L  xx
Quick Links to Previous Posts