Hi Everyone,
Since starting to write these blogs and taking up precious space in your inbox I have tried to focus each one onto a particular topic. This month however I have moved lots of things forward and have been as busy as ever but I haven't actually finished anything!  Shame on me…  I did wonder if I should continue and send a note out or whether to wait but I thought I'd put together a bit of a summary as to what I have actually been doing, not that I feel guilty or anything!
In general, it has been a busy month… as the lock down restrictions start to lift in the UK I have taken advantage of the opportunity to meet up with a few friends when it's been safe to do so. I have close friends who live in Devon and they were kind enough to let me stay for a few days. It was so lovely to be able to see my very much missed friends again, the weather was good and we made the most of the opportunity for lovely walks and for eating al fresco. In some ways though it did make it very obvious how much the world has changed which was a little sad, trying not to focus on this too much though and concentrate on what is safe to do now and the wider fact that this will pass in time.
"The Splintered" Project
So, what have I been up to?  I have started a new project working on a single file and seeing what I can tease out of that file through multiple interpretations. I have decided to name the series "The Splintered" but each of the individual images are as yet untitled.  I will publish a blog on this project when I have completed the exercise as well as including the original image. Again, I am using an image which starts with a window and I have made a note to make sure that the next time I do this exercise I will select an image which is NOT a window, just to test myself! Anyway, here is a selection of images from this project so far…
I am quite excited about this project, I have tried to adopt a different style and to focus on a more subtle colour palette. I adore working with colour and my most recent panels have been a bit full-on which I love but it's easy to repeat the same approach without trying something different occasionally. A more subtle colour palette is definitely working for this series of images and I am excited about the results.
Prints on Metal and Wood
In a prior blog I mentioned that I had been invited to add some work onto the Singulart platform (see here for my Artists Page). I have some collections live on this platform now which took quite a bit of time. I took a decision to offer images in 2 different formats, one of which involves commercial printing. I am conscious that when buying a piece of art, the size of the piece is an important factor in the decision-making process. Some images work beautifully as small works but I am being constantly nudged by the gallery that I currently work with to produce bigger images. My current printer will print to a decent size but it's not one of the huge professional printers so size will always be limited if I print myself, looking at commercial printing was the only route forward if I wanted to offer bigger images. Once the decision to look at commercial printing was made I then started to look at the different surfaces on which to print and have had a couple of test prints made onto different materials.
These two images were printed onto High Definition Metal which is a surface I absolutely love. I had the images printed quite small as they really were test prints but I now have my files prepared for much larger prints. There is no additional texture as there is with Aluminium which may be a plus or a minus, for me personally, I love the finish of the HD Metal, it's so smooth.  The real advantage of this surface is that these pieces can be hung both outdoors as well as inside. I am about to press the button and have an image printed 1m square which I plan to hang in my courtyard garden and see how it fares, very exciting indeed…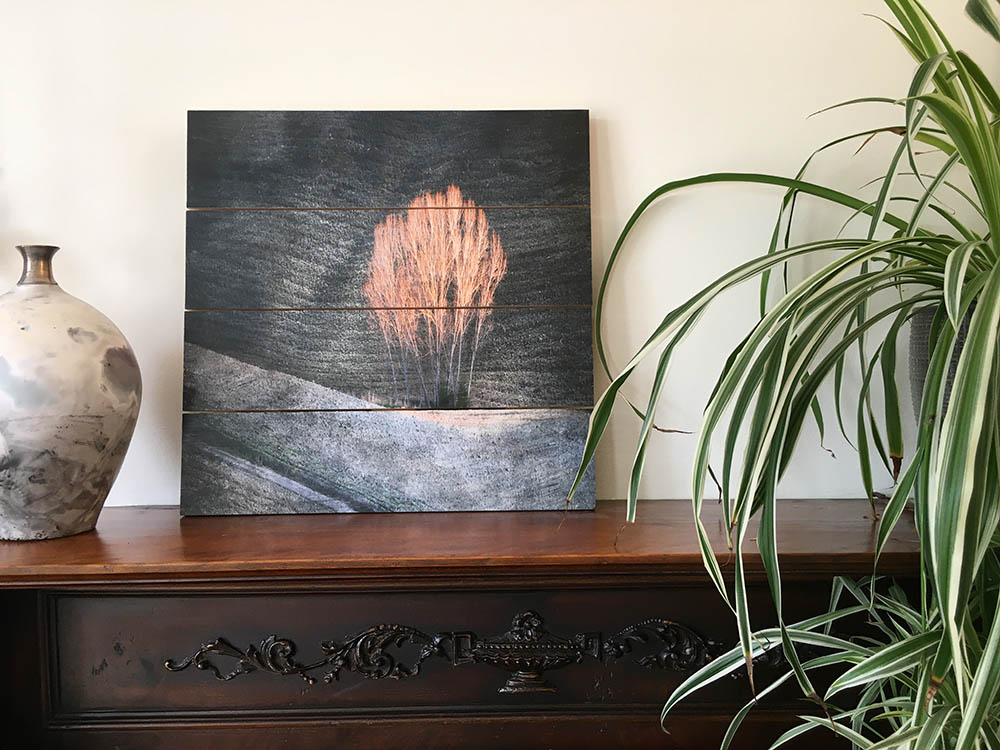 This image is printed onto wood. This is something I have tried in the past and it doesn't suit every image. The wooden panels add an additional dimension and it's not always easy to decide whether that dimension should present vertically or horizontally. This is an image from the Tuscany series and is now with my local gallery so fingers crossed it's not there for long. I am not sure that this presentation would work as well for my more recent works but I think it definitely suits this range of images. I would love to hear what you think…
Whispering at the end…
I am putting this in at the end and if you imagine that I am whispering this or using a really small font in a light grey type, that describes how I feel about it. I have purchased some oil paints!!!  There it is… I've said it! Those who have known me for a while will be rolling their eyes now as they know how many projects I have on the go at any point in time so adding another into the mix is probably not overly sensible. Hey ho…   One of the things that I am however passionate about is using Photography as a starting point for other projects. I have used some of my images as source files for Tapestries which now hang on my walls at home (I currently have another partially completed) and for me this is incredibly satisfying as it gives an image a life it might not have had otherwise. For me this is using my photographs as part of a wider creative process and I think that's important. I plan to do the same with these oil paints and to see if I can use one of my photographic image as a reference for a painting. Who knows how I will get on, I know enough about the process to know that there is loads to learn as a beginner but I am in no rush…  If you never hear about this again, you know how it went!
Butterflies
Well done if you got this far, If you did please post 'Butterfly' in the blog comment (just kidding, you really don't have to!!).
Thank you so much for taking the time to read this blog and wishing you all the best in these uncertain times.
L  xx